Plastic flexible packaging material printing is a kind of printing ink according to the plastic film and other plastic flexible packaging materials on the technology.  Plastic film transparent, soft, water resistance, oil resistance, moisture resistance, barrier, good mechanical strength, stable chemical properties, and easy to print, can be made into a variety of goods packaging bags, very suitable for packaging easy storage of food, daily necessities, etc   
The upstream of the production chain of plastic flexible packaging materials are printing equipment and raw materials, such as plastic film and printing materials and ink, etc.  The downstream of the industrial chain is the packaging of food, medicine, cosmetics, daily necessities and other products.   
Guangdong Danqing Printing Co., Ltd. has been dedicated to providing customized flexible packaging and printing since 1991. We have over 30 years of experience in manufacturing and exporting packaging. Our goal is to provide customers with high quality products and services at a professional level and to be responsible to the society.  We are still becoming a more influential, trustworthy and responsible company.     
Our product range includes stand-up bag, cup sealing film, four corner sealing bag, buckle bag, high barrier film, kraft paper bag, metallized coil film, perforated bag, pillow packaging, perforated bag, cooking bag, three side sealing bag, vacuum bag, fruit ventilation bag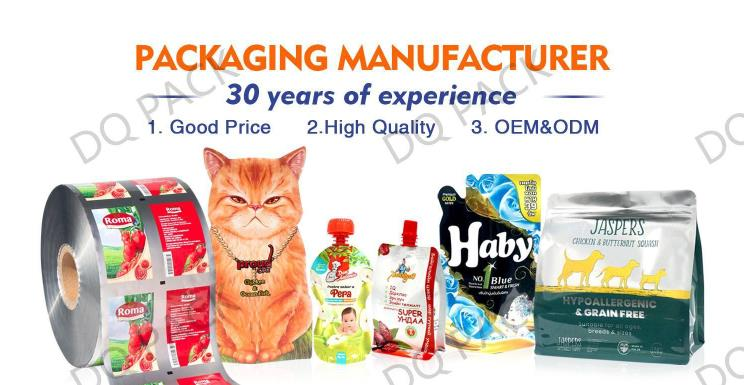 ---
Post time: Dec-06-2022